Last Updated on June 17, 2014
Dr. C. P. Ravikumar
<![if !vml]><![endif]>

Bagmane Tech Park, Opposite LRDE, C.V. Raman Nagar, Bangalore 560093, INDIA
Ph: 91-80-25099727
FAX: 91-80-25048213
E-mail: cpravikumar@hotmail.com
<![if !supportLists]>· <![endif]>Ph.D. (Computer Engineering) from the University of Southern California (1991)
<![if !supportLists]>· <![endif]>M.E. (Computer Science) from the Indian Institute of Science (1987)
<![if !supportLists]>· <![endif]>B.E. (Electronics) from UVCE, Bangalore University (1983)
<![if !supportLists]>· <![endif]>Infosys Consultants Pvt. Ltd., Bangalore, India (1983-1985)
<![if !supportLists]>· <![endif]>Processors Systems India, Bangalore, India during (1987)
<![if !supportLists]>· <![endif]>Research assistant and teaching assistant, Department of EE-Systems, USC (1987-1991)
<![if !supportLists]>· <![endif]>Assistant Professor,Electrical Engineering, IIT Delhi (1991-1995)
<![if !supportLists]>· <![endif]>Research Associate, EE-Systems, USC (1995-1996), and Summer of 1997
<![if !supportLists]>· <![endif]>Associate Professor in Electrical Engineering, IIT Delhi (April 1996-March 2000)
<![if !supportLists]>· <![endif]>Professor in Electrical Engineering, IIT Delhi (March 2000 – July 2001)
<![if !supportLists]>· <![endif]>Vice President (Training), Controlnet India Pvt Ltd (Goa), an ASIC Design Services Company (October 2000 - June 2001)
<![if !supportLists]>· <![endif]>Texas Instruments India, since July 2001. Joined as Senior Technologist in ASIC Division. Presently leads the TI India Technical University and directs the TI India University Program
<![if !supportLists]>· <![endif]>Adjunct Faculty in the Department of Electrical Engineering at IIT Madras (since 2008)
C.P. Ravikumar is presently the Technical Director Technical Talent Development at Texas Instruments, India. He leads the TI India Technical University which provides learning opportunities to employees of TI India. His earlier roles in TI include Director of University Relations and Senior Technologist (VLSI Test).  He is also an adjunct faculty at IIT Madras.  Before joining TI India in 2001, Ravikumar was a Professor of Electrical Engineering at the Indian Institute of Technology, Delhi (1991-2001). He also held a visiting position at the University of Southern California (1995-1996) and the position of Vice President (Training) at Controlnet India Pvt Ltd (2000-2001).  He obtained his Ph.D. (Computer Engineering) from the University of Southern California (1991), M.E. in Computer Science with highest scores from Indian Institute of Science (1987) and B.E. in Electronics with a Gold Medal from Bangalore University (1983). He has published over 200 papers in leading International conferences and journals. He founded the VLSI Design and Test Symposium (VDAT) and was the General Chair of this event for 15 years, from its inception in 1998 to 2011. He is the author/editor/coauthor of over 12 books in areas of VLSI and has contributed several book chapters.  He is the editor of the Journal of VLSI and Electronic System Design and on the editorial board of the Journal of Electronic Testing – Theory and Applications and the Journal of Low Power Electronics. He has won the best paper award at IEEE International Conference on VLSI Design (2002) and VLSI Test Symposium (2005). He is a Senior Member of IEEE, honorary secretary of IEEE CAS Bangalore chapter (2004-current) which he founded, and the honorary secretary of VLSI Society of India (2003-2011). He received an award from Zinnov for his work on eco-system development in India (Universities).
<![if !vml]>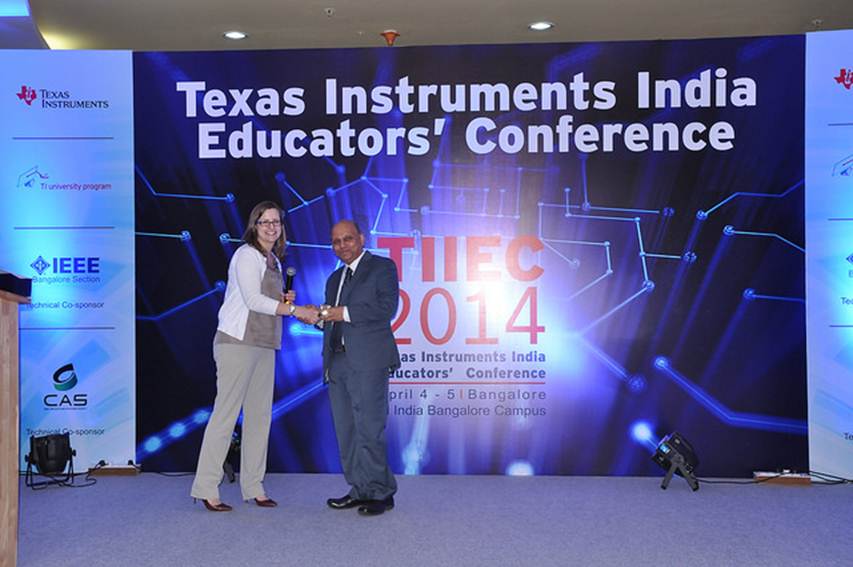 <![endif]>
I won the Best Blogger Award (TI University Program) for 2013 – I am receiving the award from Amber Pizano
<![if !vml]>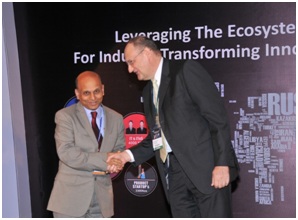 <![endif]>
I am receiving an award from Zinnov Foundation for my work on Industry-Academia Interaction
Research Interests
I have conducted research at USC, IIT Delhi, and at TI India in the following areas. Please click here to see the list of my research publications.
Embedded Systems

VLSI Test
Testing for Nanometer-related Failures, Low-power Testing, At-speed Testing, Test Compression, Yield Improvement
Low-power test, variability issues in test
Test Vector Validation
Memory Testing, Hierarchical Testing
Built-in Self Test , IDDQ Testing , Functional Testing of Microprocessors ,
Testing of core-based systems , Fault Diagnosis
Design flow analysis and optimization, System-level Synthesis, High-level Synthesis
Low-power Design Techniques, Deep Submicron Design and Test, Embedded Systems
Distributed Computing, Distributed/Parallel algorithms for Resource Discovery
Parallel Algorithms, Heterogeneous Multiprocessors, Storage Area Networks, Embedded Systems
Routing and Multicasting , Interconnection Networks
Most of the papers can be downloaded from IEEE online library or from appropriate conference archives.  You can also visit www.scholar.google.com and get the citation information on my publications.  Sorry, I don't have downloadable PDFs on my site. If you need any specific paper, I may be able to send a softcopy.
Contributions to Professional Societies
Honorary Secretary of the

VLSI Society of India

(August, 2003 – August, 2011)

Founder and Honorary Secretary of the

IEEE Circuits and Systems Society, Bangalore Chapter

(since 2004)

Senior Member,

IEEE

(since 2004), Member of IEEE since 1989

Fellow, Indian Microelectronics Society (since 2003)

Speaker in the IEEE India National Distinguished Lecturer Program (since 2009)

Member,

IETE

(since 1994)

Member, ISTE (since 1998); invited member of review committee for ISTE Publications (2008-current)

IEEE TTTC Group Vice Chair, Asia and South Pacific Region (since 2004)
Member of the University Relations Sub-committee of India Semiconductor Association (since 2005)
\
Founder and editor of "UniTI
" Newsletter published by Texas Instruments India (University Program) (2008-2012). Presently, editor of the electronic newsletter of TI India University Program
---
Teaching
| | |
| --- | --- |
| University of Southern California | I taught a course on VLSI Design for undergraduate students twice in the Department of EE-Systems. I was also a teaching assistant for "Computer Organization" and "Computer Architecture" classes at USC. |
| IIT Delhi | I have taught several courses for undergraduate and postgraduate students at IIT Delhi. Please click here to see more. |
| IIT Madras | As an adjunct faculty at IIT Madras, I have taught courses in the Department of Electrical Engineering. Please click here to see more. |
| IETE, New Delhi | I have taught courses on "Parallel Processing" several times for the Masters' students of the IETE |
| BITS, Pilani | I taught a course on "VLSI Testing" at BITS Pilani in 2008 |
| BITS Pilani – Distance Education Program | I have taught courses on "VLSI Testing" and "CAD of ICs" for the Distance Education Program of BITS Pilani conducted in Bangalore |
Tutorials
Full-day tutorial at VLSI Design Conference 2011 with Prof. Kewal Saluja on "Overview of Modern VLSI Design and Test Practices"
Full-day tutorial on "Advances in VLSI Design" at MNIT, Jaipur (Aug 9, 2010)
Full-day tutorial at VDAT 2010 on "An overview of VLSI Design and Test"
Half-day tutorial at WECON 2009 on "Designing Embedded Systems using Beagleboard"
Half-day tutorial at VLSI Design and Test Symposium, 2009 on the topic of "Test Power Reduction".
Teaching the course on "DSP and Embedded Systems" (jointly with Prof. S. Srinivasan of IIT Madras) for the students of Dual Degree Program in Electrical Engineering, IIT Madras
4-day tutorial on Design for Test at Noida, organized by VLSI Society of India  (Jointly with Prof. S.M. Reddy, U. of Iowa and Nilanjan Mukherjee, Mentor Graphics)
day tutorial on "Embedded Systems-on-Chip – Recent trends and future directions" on March 17, 2007 at Banasthali Vidyapeeth, Rajasthan (as part of the DST-sponsored workshop on Models of Computation)
Innovative Practices session at VTS 2007 (Joint organizer with Srivaths Ravi)
1-day tutorial on Embedded Systems  at TIMA conference, National Institute of Technology, Trichy, Jan 4, 2007
1-day tutorial on DFT organized  by VLSI Society of India on the topic of Design for Test at New Delhi, December 2005 (Jointly with Vishwani D. Agrawal)
Delivered a 1.5-day tutorial on Design for Testability of Digital Systems at VNR VJIET, Hyderabad, September  2006
Delivered a 2-hr tutorial on "Industrial Perspectives in Design for Test",  August 2006, Bangalore
Delivered a 1-week course on DFT at BITS, Pilani during Feb 2006
Delivered a half-day tutorial on VHDL at the VLSI Education Workshop organized by NIST, Berhapmpur, October 2005.
Delivered a half-day tutorial on "System-on-Chip Design & Test"  at the VLSI Education Workshop organized by NIST, Berhapmpur, October 2005.
Invited Tutorial on "CAD of Integrated Circuits" at VLSI Education Workshop, Mysore, May, 2004
Tutorial on Challenges in System-on-Chip Design at the IEEE TENCON 2003, Bangalore, 2003
---
Invited Seminars given in the recent past
(Click here to see the complete list of talks in the past few years )
Seminars delivered in 2012
| | | | |
| --- | --- | --- | --- |
| Introduction to MSP430 Microcontroller | SJCE, Mysore |  Jan 11 | inauguration of the two-day faculty development program on Texas Instruments MSP430 microcontroller |
| How TI Technology helps in developing low-power high-performance and low-cost embedded systems | Texas Instruments, Bangalore | Jan 12 | Talk delivered to interns |
| Introduction to MSP430 Microcontroller | Texas Instruments , Bangalore | Jan 18 | Inauguration of the two-day faculty development program on Texas Instruments MSP430 microcontroller |
| Multicore Processors | Texas Instruments, Bangalore | Jan 24 | Delivered at Texas Instruments |
| It's always 430 somewhere! | IP University campus, New Delhi | Feb 9 | Seminar in Department of Computer Science |
| Skill Development in the country in the area of Embedded Systems | MCIT, New Delhi | Mar 3 | Invited panelist at the workshop organized by Department of Information Technology, Government of India |
| C2000 Microcontroller in Power Electronics Applications | Amritha School of Engineering, Bangalore campus | Mar 13 |  Inauguration of the two-day faculty development program on C2000 microcontroller |
| Introduction to MSP430 Microcontroller | Texas Instruments, Bangalore | March 2012 | inauguration of the Takeoff with MSP430 launchpad – a self-learning lab program organized at Texas Instruments |
| It's always 430 somewhere! on Texas Instruments MSP430 microcontroller | Father Rodrigues Institute of Technology , Navi Mumbai | Mar 27 | Seminar in the Dept of ECE |
| C2000 Microcontroller in Power Electronics Applications  Father Rodrigues Institute of Technology | Father Rodrigues Institute of Technology , Navi Mumbai |  Mar 27 | Seminar in the Dept of ECE |
| It's always 430 somewhere! | BNMIT, Bangalore |  March 28 | Seminar in the Dept of ECE |
| It's always 430 somewhere!  | CT Institute of Technology, Jalandhar |  Apr 3 | Seminar in the Dept of ECE |
| It's always 430 somewhere!  | KSSEM, Bangalore |  Apr 10 | Seminar in the Dept of ECE |
| Texas Instruments C2000 Microcontroller in Power Electronics Applications at | PESIT, Bangalore |  April 23 | Seminar in the Dept of Electrical and Electronics Engineering |
| Trends in Electronics and Communication | Nitte Minakshi Institute of Technology |  May 3 | Seminar in the Dept of ECE for teachers |
| Embedded Systems | Sir MV Institute of Tech |  May 3 | Seminar in the Dept of ECE |
| Power Efficient Signal Processing | KSIT, Bangalore |  May 4 | Keynote talk at ICVSP 2012 |
| It's always MSP430 somewhere! |  CT Inst of Tech, Jalandhar |  Jun 4 | Inauguration of TI India Univ Prog workshop |
| It's always MSP430 somewhere! | NIT Jalandhar |  Jun 4 | Seminar in Dept of ECE |
| It's always MSP430 somewhere  | IIIT Hyderabad | Jun 14 | Seminar for ECE students |
| OMAP Heterogeneous Multicore Platform for Low Power Mobile Devices | IGIT Delhi | Jun 16 | Seminar in Summer Workshop |
| ARM based Embedded Processor Platforms from TI | CDAC Hyderabad | Jun 20 | Talk for the participants of the faculty development program |
| Power Efficient Signal Processing | MJCET Hyderabad | Jun 28 | Inauguration of IEEE CAS chapter |
| Power Efficient Signal Processing | PSG Polytechnic College |  Jun 30 | Keynote address at VECOS 2012 |
| Importance of System-level Design and Analog | CDAC Bangalore | July 2 | Faculty Development Program |
| Inspiring innovations in Analog System Design | CMRIT, Bangalore |  July 23 | Inauguration of workshop on Analog System Design |
| It's Always MSP430 somewhere | St Joseph's College of Engineering (Mangalore) | July 23 | Webinar |
| Power Electronics applications of C2000 Microcontroller with special emphasis on Motor Control | NIT Calicut | Aug 6 | Inauguration of two-day workshop on C2000 microcontroller |
| It's always MSP430 somewhere | VIT Chennai | Aug 8 | Seminar in the Dept of ECE |
| Embedded Systems | Anna University College of Engg, Chennai | Aug 8 | Seminar in the Dept of ECE |
| Texas Instruments For Embedded Applications and Industrial Automation  - | SRM University, Chennai | Aug 18 | Seminar in the Dept of Control & Instrumentation |
| Power Electronics applications of C2000 Microcontroller with special emphasis on Motor Control | TCE Madurai | Aug 30 | Inauguration of workshop on C2000 microcontroller |
| Chief guest address : Trends in Electronics & Communication – | TCE Madurai | Aug 30 | Inauguration of EEE association |
| Introduction to TI Microcontrollers | SCOE Pune | Aug 31 | Seminar in Dept of ECE |
| Trends in Electronic Measurement & Instrumentation | MIT Chennai | Sep 6 | Seminar in Dept of Instrumentation |
| Trends in Electronics and Communication | Tejaa Shakti College of Engg & Tech | Sep 15 | Web-enabled Keynote talk at NCICCG'12 |
| Analog System Design | TCE Madurai | Sep 7 | Webinar |
| Introduction toTI Microcontrollers | RVCE Bangalore – | Sep 27 | Seminar in Dept of ECE |
| TI's Low power Wireless Connectivity Solutions | Anna Univ College of Engg, Chennai |  Oct 5 | Inauguration of workshop on Wireless Connectivity |
| Research Methodologies | KSSEM Bangalore |  Oct 12 | Keynote talk at workshop on Research Methodologies |
| Introduction to TI semiconductor solutions and their applications | DJ Sanghvi College of Engg, Mumbai |  Oct 18 | Seminar in Dept of ECE |
| Introduction to TI Microcontrollers at SPIT | Mumbai |  Oct 18 | Tutorial in ICCICT 2012 |
| Introduction to TI Microcontrollers | Chitkara University , Punjab Campus |  Oct 20 | Inauguration of Multiworkshop on TI microcontrollers |
| Applications of MSP430 Microcontroller | TI Campus |  Oct 22 | Address to the student participants of the Saturday workshop |
| VLSI and Communication- a fractal relation | BIT, Bangalore |  Oct 30 | Keynote talk at Conference on VLSI and Communication Systems |
| 30 years of DSP - Milestones and Road Map | Chitkara University, Rajpura, Punjab Campus | Nov 1 |  Keynote Talk at SIBIP-2012 |
| Embedded Systems | UIET, Chandigarh | Nov 2 |  Seminar in Dept of ECE |
|  Low Power High-Performance Low-Cost Embedded Systems using TI Embedded Processors and Analog | Cranes Varsity, Bangalore |  Dec 27 |  Seminar |
---
Courses taught at IIT Madras
As an adjunct faculty in the Department of Electrical Engineering at IIT Madras, I have taught the following courses:
DSP and Embedded Systems (jointly with Prof. S. Srinivasan) – 2008
CAD of Integrated Circuits (jointly with Prof. A. Ravishankar) - 2009
Special Topics in VLSI Design (jointly with Prof. A. Ravishankar) – 2010, 2011 and 2012
Other Writings

<![if !supportLists]>· <![endif]>Writings in Kannada

<![if !supportLists]>· <![endif]>Translations from Kannada to English

<![if !supportLists]>· <![endif]>Translations from Hindi to English

<![if !supportLists]>· <![endif]>CP's corner

<![if !supportLists]>· <![endif]>Technical Writings in Kannada

Citations for my publications

The above information is generated by Microsoft Academic Search®, please visit Microsoft Academic Search for more information. Please check here for terms of use.

<![if !supportNestedAnchors]><![endif]>